How to Set Up a Zero-budget Early Learning Space in Public Libraries
How to build inclusive early learning spaces for sensory play, imaginative and role-play, and motor play in your library by having zero-budget –The Queens Public Library Case Study
Queens Library is moving nimbly to become the most advanced – and completely free to the public – service and family center in town. Following the spirit of Embodied Learning, Library President and CEO Dennis M. Walcott paces across the reading room at the Central Library in Jamaica, NY, every day to share time, warmth, and openness with every patron. Mr. Walcott is there to capture the patrons' needs and, along with his staff, to create services and products fitting them.
Patrons' needs were also at the core of the courageous, experimental collaboration Queens Library started with Embodied Learning. The work to do was perfecting ways to serve the youngest children, their families, and caregivers through prepared learning environments in libraries' Children's Rooms.
1. Make a Plan with Your Library Youth Services Coordinator and Invite Library Administrators to Experience Your Ideas
Gillian E. Miller, Coordinator of Early Learning Services at Queens Library, developed the perfect plan to enable rapid, successful change within a huge library system.
First, we introduced the Embodied Learning method and techniques to the Library president, vice presidents, administrators, and directors.
In a one-hour meeting, Library administrators and managers were able to work smoothly in a new, unexpected fashion with Embodied Learning sensory constructions; they actively collaborated to grasp the impact of my work on inclusive learning environments, young patrons' healthy development, and joyful family relationships.
Photo: Gillian E. Miller, Queens Library
2. Schedule a Hands-on Professional Development Session for Branch Managers and Children's Librarians
With the Library administration's blessing, we started a project that involved managers, assistant managers, senior and junior children's librarians, and early childhood educators of the ten branches that were selected from across the entire borough. Our goal was to support library workers in setting up each branch's Children's Room independently and on a zero-budget for children ages 0 to 8.
At this point in the collaboration, we wanted librarians and branch managers to take a step outside of their workplaces and reflect on young patrons' core needs. Through hands-on work with unusual sensory constructions, library workers and managers experienced how infants, toddlers, and children learn autonomously through play, as play means learning through discovery.
Photo: Gillian E. Miller, Queens Library
These activities led all participants to better understand that movement, imagination, self-awareness, physical confidence, sensory agency, pre-literacy, relationship with adults – including the librarians – and social-emotional skills are the core of healthy development in early childhood and libraries play an essential role in the community for the development of young children.
We used these topics to start a conversation about the meaning of learning in a library because these are the elements of the extraordinary self-guided learning process children go through in the first months and years of life. In doing so, we emphasized the concept that every child is the protagonist in their own learning pathway. With this in mind, we carried our reflections into a second professional development session, which focused on how to foster early learning once back in the branch.
For this transition, we used materials that are generally easy to find in every library: newspapers, packing tape; cardboard and cardboard boxes; wooden laundry pins; and strings.
To successfully translate the work done in the PD workshop into everyday practice, we scheduled the implementation in every library branch.
Reinventing Storytime
Reinventing the Children's Room in Public Libraries
New Ideas for Virtual Library Programs for Young Children
3. Invite Your Youth Services Coordinator or Consultant to Your Branch and Brainstorm with Them about Redesigning the Children's Room
Many library system administrators find the librarians' consultancy phase at their branch too much of a time and resource commitment. However, this is the best way to provide solution-oriented support effectively, self-management skills, and motivation.
Remarkably, Queens Library made sure that I could spend at least two hours with each children's librarian in their element.
Librarians are great storytellers even in their technical reports. By asking them about patrons behavior, they have told me dramatic stories of people who lost almost everything in Hurricane Sandy, patrons who are only eight years old who come to the branch on their own, children who only have the Children's Room at the library as a safe space to grow and thrive. Along with the stories about patrons' needs, librarians had the chance to present their challenges and questions related to each Children's Room setting, the selection of materials, and the branch rituals directly in their workspace.
Photo: Gillian E. Miller, Queens Library
The consultancy at the branch is usually very active. My goal is to experiment with solutions and enable change during that very first visit.
It is an extremely delicate phase of the collaboration since a third party visitor suddenly acts inside the space library workers have a special relationship with. In some cases, it was possible to create a brand new setting just by moving some small pieces of furniture and reorganizing the materials to give the librarian a new perspective on preparing and using the room.
In other branches, we worked more on observation training to better respond to visitor needs and provide visual documentation that inspires the librarians and enables a more effective dialogue with patrons.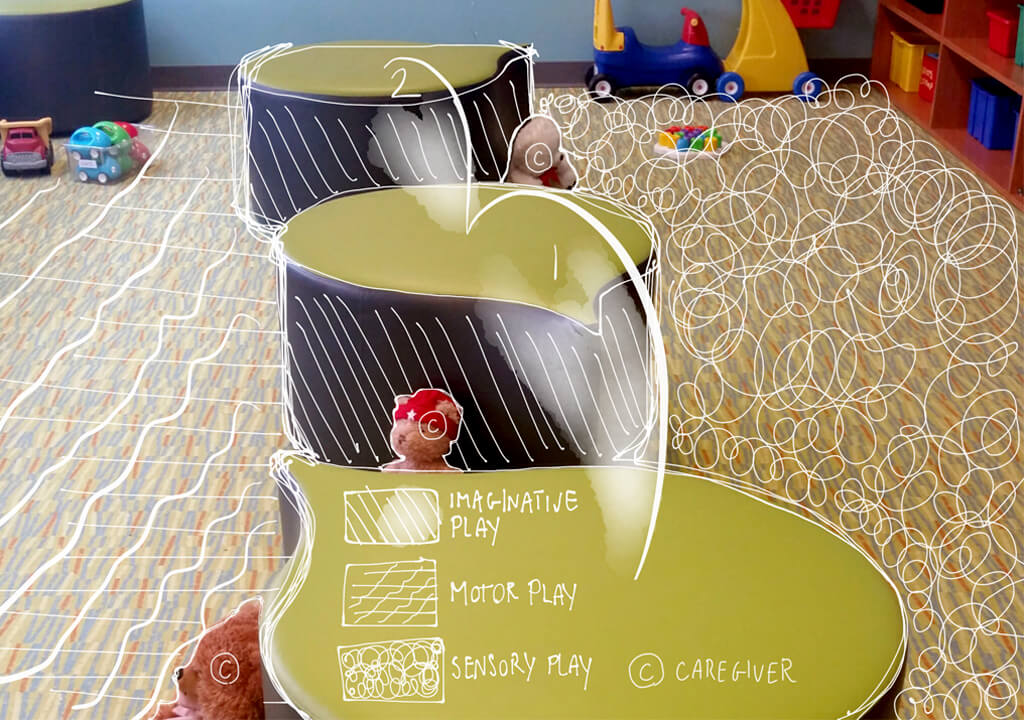 Photo: Sarah Hennig, Queens Library; Sketch: Tommaso Lana, Embodied Learning
4. Set Up Your New, Raw, Customizable Learning Environment
After six hours of an intensive training program and over twenty hours in branches, we had an effective, implementable blueprint for a setting that covers all the current needs of young children and enhances the active, responsible, and dedicated role of parents and caregivers. This blueprint was possible thanks to dozens of inspiring stories and reports about the use of space and materials that children's librarians patiently shared with me and my interactions with librarians and patrons in each Children's Room.
Photo & Sketch: Tommaso Lana, Embodied Learning
Early learning at Queens Library will happen in three full inclusive spaces within the Children's Room:
1. the "sensory play" area,
2. the "imaginative and role-play" area,
3. and the "motor play" area.
Each prepared learning space offers the opportunity to foster curiosity, literacy, social-emotional learning, creativity, and relationships.
Children's librarians are the curators of the space. Through observation and interaction with patrons, they can customize the early learning environment to serve each library branch community best.
We completed this first collaboration in a final workshop session focused on selecting materials based on the level of stimulation children in each branch can engage in while having a positive learning experience. Since, during the branch visits, we often spoke about overstimulation, we worked on reducing adult noise and the number of toys, objects, and materials as well. We focused on replacing quantity with quality by fostering creative solutions through imaginative play and simple common objects. In fact, in at least ten Children's Rooms at Queens Library branches, young patrons and their families can now be inspired by dedicated librarians, prepared environments, zero-budget materials, and visual documentation on how to continue their learning through play and discovery experiences at their homes.
Motivating and engaging library workers is part of my job. To underline the importance of play as a learning experience, I suggested renaming the Children's Room "Early Learning Center." The idea behind it is to stimulate children's librarians and adult patrons in actively preserving the strongly formative identity and message of the Children's Room and, at the same time, making sure that this precious space does not turn into a mere sitting and entertainment area for young children, while their caregivers are using the library.
"Hi, Tommaso,
We are very grateful for your guidance! You have helped us immensely. We've got a lot of positive feedback with the new setup. So far, from what I've observed, parents are interacting more with their children in the Early Learning Center. We've put half of the toys in storage as well-so much easier to sort at the end of the day.
The name of the area, "Early Learning Center," is great, by the way!"
Reinventing Storytime
Reinventing the Children's Room in Public Libraries
New Ideas for Virtual Library Programs for Young Children
Tommaso Lana is currently the early childhood education consultant (contract) at Los Angeles Public Library and Allegheny County Library Association (Pittsburgh, PA).
He collaborates with large library systems such as Brooklyn Public Library, Queens Public Library, and San Mateo County Libraries. Moreover, Tommaso served New York Public Library, ALSC (ALA), and Pennsylvania Library Association.
Tommaso is the founder and facilitator of Embodied Learning.
Embodied Learning is a multidisciplinary experiential training program that transforms (formal and informal) educators' communication and interaction skills through sensory play, movement, and imagination.